This history of medicine would be quite drab without the enormous rollcall of quacks and charlatans. Sometimes the stories are so bizarre it's hard to believe they are true. Today's self styled "doctor" is no exception.
Dr. John Romulus Brinkley (later to become John Richard Brinkley) lived from 1885-1942. The son of a man who practiced as a medic in North Carolina during the Civil war, his father was married four times legally and had one other marriage that was anulled because John Brinkley Snr was underaged at the time. John Jnr himself was born out of wedlock, to the niece of his father's current wife.
John Jnr initially trained as a telegrapher but was soon working a travelling medicine show selling virility tonics. Eventually Brinkley decided to attend a decidely shonky medical school named Bennett Medical College, which taught
Eclectic Medicine
, essentially a herbal medicine theory. His wife, however, ran away with his children before he could complete it.
Undeterred Brinkley purchased an Eclectic Medicine diploma in Kansas. Unbelievably this diploma did give him the right to practice in Kansas and and Arkansas, despite the fact that it had no training attached to it whatsoever.
He then set up a clinic in South Carolina with conman and armed robber John Crawford. Entitled "the Greenville Electro medicine doctors" men feeling low in vigour and potency were given a shot of coloured distilled water into their testicles for $25 a pop. The clinic lasted two months before the two conmen left, leaving a string of irritated creditors in their wake. Eventually they were both jailed for practicing medicine without a license.
After travelling itineratly for several months after his release, including marrying again, despite not managing to divorce from his first wife, Brinkley eventually set up a clinic in Milford, Kansas. It was here that he began a practice that would make him infamous.
According to Brinkley's self commisioned biography - one day a man named Stittsworth came to see Brinkley, complaining of a low libido. Brinkley jokingly suggested he needed "goat glands" to be more like those virile animals. The patient readily agreed and for the princely sum of $150, implanted a piece of goat testicle into the man's scrotum.
Stittsworth reported a miraculous recovery, and within due course his wife gave birth to a baby boy, appropriately named Billy. Stittsworth spread the word and eventually business was booming. For $750 an operation, Brinkley had a miracle cure. He promoted it aggressively as a cure for everything from dementia to emphysema.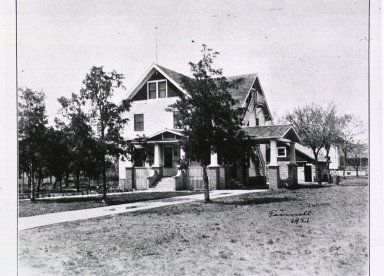 The Brinkley Hospital in Milford, Kansas
Eventually Brinkley was introduced to the power of radio and with the enormous money he was making from his clinic, set up his own. He used it to advertise his clinic and saw a consequent uptake in business.
In an era pre antibiotics with a surgeon who had no formal education and was reportedly frequently intoxicated, patients suffered infections and a number died. Eventually the American Medical Association got wind of it and began pushing for an investigation. In 1930 a formal hearing was held by the medical board for signing the death certificates of 42 people, all of whom had been well prior to attending his clinic. Brinkley lost his medical license (such as it was) and his broadcast rights.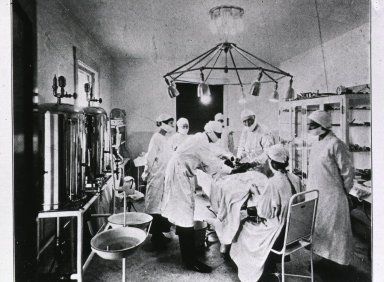 The operating theatre at the Brinkley Hospital
Undettered, Brinkley first moved his practice to Mexico and when outlawed there to Texas. Now extremely rich, he and his wife lived in an enormous mansion.
Eventually, however, rival charlatans began cutting into his business and the American Medical Association published a document labelling him a quack. In suing them for defamation Brinkley lost badly, being labelled a quack by the courts. This opened the floodgate for a number of lawsuits including about a dozen for wrongful death. Brinkley was eventually forced to file for bankruptcy.
He died, penniless in 1942 from heart failure.
I wonder if his doctor's considered a goat testicle transplant.
Bibliography:
Winston, Robert (1996) 'A child at any cost'
http://www.quackwatch.org/11Ind/brinkley.html
http://en.wikipedia.org/wiki/John_R._Brinkley
Images are courtesy of the: Images from the History of Medicine Database.