I recently found a link to a poem written by the first poet and first female writer to be printed in the British North American Colonies.  Anne Bradstreet was born in England in 1612.  She immigrated to America in 1630 with her husband Simon as part of a fleet of Puritan immigrants.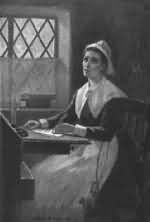 Bradstreet suffered from smallpox as a child, an illness that went on to cause her paralysis in later life.  She was also stricken with tuberculosis in later life.  Despite this she gave birth to eight children and lived to the age of sixty.
Bradstreet's works reflected on the hardships of her life in the Colonies, and were about her husband and her children.  They give insight into the Puritan faith, in particular its strict moral code.
One of the most interesting of her poems is entitled, '
Before the Birth of One of her Children
'.
The simple verse betrays not only Bradstreet's deep love for her children, but also the inherent fear and respect with which she held childbirth.  It gives great insight into the mental prepartion mothers of her time underwent before giving birth.