I recently found a link to a poem written by the first poet and first female writer to be printed in the British North American Colonies. Anne Bradstreet was born in England in 1612. She immigrated to America in 1630 with her husband Simon as part of a fleet of Puritan immigrants.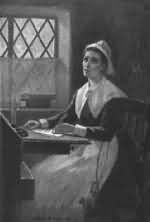 Bradstreet suffered from smallpox as a child, an illness that went on to cause her paralysis in later life. She was also stricken with tuberculosis in later life. Despite this she gave birth to eight children and lived to the age of sixty.
Bradstreet's works reflected on the hardships of her life in the Colonies, and were about her husband and her children. They give insight into the Puritan faith, in particular its strict moral code.
One of the most interesting of her poems is entitled, '
Before the Birth of One of her Children
'.
The simple verse betrays not only Bradstreet's deep love for her children, but also the inherent fear and respect with which she held childbirth. It gives great insight into the mental prepartion mothers of her time underwent before giving birth.
Exact maternal mortality for the period in which Bradstreet's children were born isn't known, but the best estimates sit at around 25-30 deaths per 1000 births. (By contrast maternal deaths in developed countries are so perishingly rare they are now estimated in terms of one hundred thousand births and are probably less than 0.1 per 1000 births.) This of course says nothing about the illness in those women who survived, from infection, bleeding or tearing, all of which were to be feared.
Infant deaths are harder to estimate but what is known from parish records is that one in three children died before reaching the age of one, many of those in childbirth.
All things within this fading world hath end,
Adversity doth still our joys attend;
No ties so strong, no friends so dear and sweet,
But with death's parting blow are sure to meet.
The sentence past is most irrevocable,
A common thing, yet oh, inevitable.
How soon, my Dear, death may my steps attend,
How soon't may be thy lot to lose thy friend,
We both are ignorant, yet love bids me
These farewell lines to recommend to thee,
That when the knot's untied that made us one,
I may seem thine, who in effect am none.
And if I see not half my days that's due,
What nature would, God grant to yours and you;
The many faults that well you know I have
Let be interred in my oblivious grave;
If any worth or virtue were in me,
Let that live freshly in thy memory
And when thou feel'st no grief, as I no harmes,
Yet love thy dead, who long lay in thine arms,
And when thy loss shall be repaid with gains
Look to my little babes, my dear remains.
And if thou love thyself, or loved'st me,
These O protect from stepdame's injury.
And if chance to thine eyes shall bring this verse,
With some sad sighs honor my absent hearse;
And kiss this paper for thy dear love's sake,
Who with salt tears this last farewell did take.
One can't help but read these words and give thanks that nowadays childbirth is an event to be celebrated rather than greeted with salt tears of grief.