One hundred years ago today at two twenty am in the freezing waters of the North Atlantic Ocean the RMS Titanic sank. In one of the greatest peacetime maritime disasters in history 1,514 people lost their lives.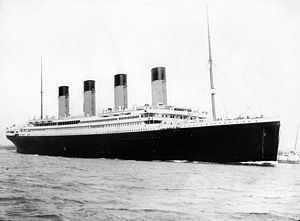 For the duration of the short voyage the passengers and crew of the Titanic were served by a small medical staff made up of two surgeons, two nurses and a hospital steward.
Dr. William Francis Norman O'Loughlin and Dr. John Edward Simpson the ship's surgeon and assistant surgeon respectively were both Irishmen. Dr. Norman was 62 at the time of the Titanic disaster and Dr. Simpson 37. Both had pursued a career at sea due to ill health. Unlike Dr. O'Loughlin who was both orphaned and unmarried, Dr. Simpson had a young wife and son at home.
(Dr. O'Loughlin and Dr. Simpson)
Their steward, William Dunford, was 41 years old and had transferred with Dr's O'Loughlin and Simpson from the Olympic.
Matron Catherine Jane Wallis, known as "Cissy", was 35 years old, and a mother of four. Her husband died in 1911 and it is likely that she took the job on the Titanic in order to support them. She worked primarily with the third class passengers, teaching them, amongst other things "to use the toilet". The final member of the Titanic's small team was Miss Evelyn Marsden who served as a nurse to the first class passengers.
Initially it was the primary role of the surgeons aboard the ship to conduct health checks of every steerage passanger prior to boarding the ship. (Health regulations meant that first class passengers were spared this indignity). Steerage passengers were inspected for evidence of infectious diseases such as tuberculosis and a clean bill of health card attached to their ticket. Interestingly the lives of three children were spared after being forced to stay behind for showing evidence of the infectious eye disease trachoma.
Seperate hospitals were on board for each of the three classes and then there was also a seperate hospital for the crew. Although the ship was not carrying enough lifeboats, records do indicate that it was carrying a reasonable stock of medical supplies for its day. However no records actually exist about any procedures or treatments that may have been carried out during the short voyage.
In the end, it didn't really matter.
On the fateful night it was reported by survivors that Dr. O'Loughlin went amongst the frightened passengers, bringing them onto the deck, soothing them and helping them get into the lifeboats. He was then seen to be standing on the deck, as the water rose, swinging a life belt and remarking: "I don't think I'll need to put this on." The last person to see him was the Chief Baker Joughin at about 1:45 am who was searching through the pantry for some liquor. Dr. O'Loughlin was also looking for something, probably the same thing. His body was never recovered.
Dr. Simpson was also seen that night on the deck, helping with lifeboats. An officer recalls him passing a torch to him with words, "here is something that will be useful to you." Evelyn Marsden saw him some time later when he took her to his room for a little whiskey and water. He then hurried away, and was never seen again. His body was never recovered.
William Dunford's body was recovered some time later and buried at sea. His story is unknown.
Of Mrs. Wallis nothing is known. One presumes she was stuck in steerage and given the much higher death rates in that class, perished there.
Evelyn Marsden, however, holds the distinction of being the only Australian survivor of the disaster. Shortly after seeing Dr. Simpson she escaped on lifeboat 16 at 1:35am. She and forty other survivors were rescued at seven in the morning by the RMS Carpathia. She went on to marry Dr. William Abel James, settle in South Australia, and live a long and happy life.
One imagines she was very grateful.
Further reading

Titanic medical care: second to none

Encylopedia Titanica